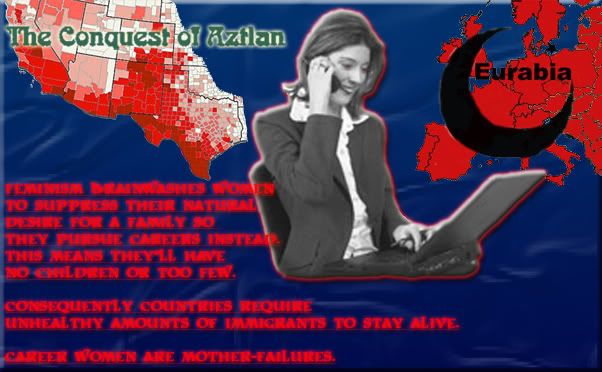 Yeah. How scary is this?
It's interesting that I came across this image, courtesy of the wonderful
Feministing
, shortly after I wrote a post wherein I talked about how we weren't having children because of our schedules. If only my wife would give up her lucrative and fulfilling and intellectually stimulating career (which pays more than mine), and pump out a few rugrats, well then dammit, we'd have fewer illegal immigrants to run rampant through our country and swallow up our welfare rolls and rape our cub scouts. (insert obligatory joke about cub scout leaders doing the job just fine). Of course, we'd have to sell our house since we wouldn't be able to pay the damn mortgage.
If anyone cares, the poster above is from an anti-feminist group called "
Quiverfulls
", which are women determined to have as many children as possible (minimum six) and home school them, take them only to fundamentalist churches, and raise them to be a part of "God's Army". To which I say: Yikes.
Seriously, what is the conservative obsession with having children? When did people who either a) don't have kids or b) have just one or two, somehow become villains? Actually, I guess the more important question, for both these Quiverfull whack-jobs and the rest of Conservative America is...
Why can't you just leave us the fuck alone?
*sigh*
Final note: I'd like to see one of these so-called Quiverfull "soldiers of God" say that (what's on the poster) to my wife's face. Because... well... because I've never seen a person with a bible shoved up their ass.
Final final note. For some reason, the one of the first things that came to mind when thinking about the Quiverful perfect family was this video. One of my all-time favorite songs, "A Little Time", by
The Beautiful South
. How's
that
for domestic bliss, motherfuckers?